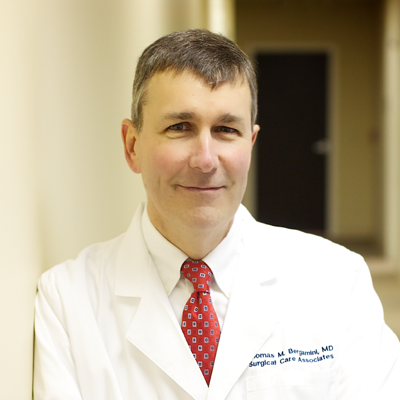 Dr. Thomas Bergamini is a native of Louisville, KY where he has practiced vascular surgery since 1990. He obtained his vascular training at the Medical College of Wisconsin in Milwaukee, WI. Dr. Bergamini is board certified in General Surgery, Vascular Surgery, and Surgical Critical Care. He is a Fellow of the American College of Surgeons, a Registered Vascular Technologist, Registered Physician in Vascular Interpretation with the American Registry of Diagnostic Medical Sonographers, and an Associate Clinical Professor with the Department of Surgery University of Louisville. He had been the director or of the Baptist non-invasive vascular laboratory and was Medical Director of the vascular technologists training program at St. Catherine College. Dr. Bergamini has been the recipient of many awards for leadership, teaching, research grants and has been an officer in numerous surgical societies including President of the Kentucky Vascular Surgical Society and Chief of Surgery at Baptist Health Louisville.
Dr. Bergamini's surgical interest includes the prevention and treatment of stroke due to carotid artery disease, open and endovascular treatment of abdominal aortic aneurysms and peripheral vascular disease or diabetes mellitus causing leg pain and foot ulcers. He has served as principal investigator of several trials.
As of January 2023, Dr. Bergamini no longer sees patients and has transitioned his practice to an MD surgical assistant where he assists many of the vascular specialists at SCA with their most complex surgeries. Additionally, he serves as the Physician Advisor for Surgery at the Baptist Health Quality department.