Louisville, KY – Salem George Jr, MD of Surgical Care Associates in Louisville, KY suggests this quick National Stroke Awareness Month quiz. Knowing the risk factors for a stroke may save your life.
1. Is your blood pressure more than 135/85? High blood pressure is a leading cause of stroke.
2. Do you have atrial fibrillation?
3. Do you smoke cigarettes?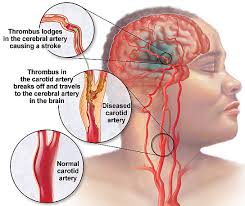 4. Do you drink alcohol beyond moderation?
5. Is your cholesterol high?
6. Do you have diabetes? Is it under control?
7. Do you exercise for 30 minutes a day?
8. Do you enjoy a low sodium (salt) diet? This can lower your blood pressure and reduce your risk for stroke.
9. Do you have circulation problems?
"Being over age 55 and having a family history of stroke are additional risk factors," said Dr. Salem George Jr. "Lifestyle changes such as diet and exercise can positively impact your vascular health and reduce the chance of having a stroke."
Build-up of plaque in the carotid artery in the neck is a major cause of stroke. As a vascular surgeon, Dr. George has witnessed first-hand the effects of stroke, the fourth leading cause of death in the United States according to the Center for Disease Control and Prevention's 2010 National Vital Statistics Report. In 2008, 133,750 people died from stroke.
"Every 40 seconds, an American suffers a stroke," said Dr. George . "Strokes occur suddenly and without warning. Two million brain cells die every minute during a stroke. Eighty percent of strokes are preventable through risk factor management."
The American Stroke Association estimated that Americans spent $73.7 billion for stroke-related medical costs and disability in 2010. This includes physical, occupational, speech language, and recreational therapy.
If you witness someone with the following signs of a stroke, call 911 immediately.
• Numbness or weakness of face, arm, or leg, especially on one side of the body
• Confusion or trouble speaking or understanding speech
• Trouble seeing in one or both eyes
• Trouble walking, dizziness, or loss of balance or coordination
• Severe headache with no known cause.